Урок № 111. Stripping for Sochi
Западный взгляд на изыски российских маркетологов в отношении звезд спорта от спортивного журналиста
Curling champion: Ekaterina Galkina.
I am always bemused when I stumble upon a snow sports athlete baring her all in a bikini or less for the pages of a men»s magazine. The stylists think it original to put them in ski boots and fur hats or lying on their tummy on a bear skin rug cleavage and legs in the air warmed by the open fire, just an average afternoon in the lodge.
I have heard the arguments that stripping off brings much needed focus and a new audience to women in sport, the same women who earn lesser prize money and get lesser sponsorship dollars despite the same travel costs as the men on the competition circuit. But is it the audience we want and what about the young girls looking to make it on the world stage, must they worry that they are pretty enough not just good enough to make it too?
During The Sochi Winter Olympics Opening Ceremony all eyes were on Russia where the head of the Russian Orthodox Church declares feminism to be «very dangerous» and a threat to the motherland. Websites such as Adme.Ru curate images of Russia»s top female snowsports athletes dressed in provocative g strings in laugh out loud poses. Though I think the humour is not intentional.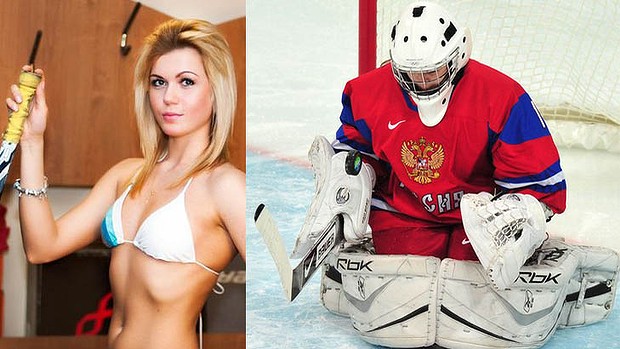 Ice hockey goalie: Anna Prugova
These same images went global when The Daily Mail in the UK chose to republish them quoting Adme.RU as writing, «we sincerely support our team and believe that its strength is not only in sports achievements. Our Russian Olympic team defies stereotype that women in sport are just a heap of muscles and masculine shapes.»
How did they do that? By posting provocative photos of championship athletes with impressive medal tallies straddling curling stones in their underwear and bending over in suspenders.
There is a way to photograph sports women to show the complexity of being feminine in a muscle and strength bound world. Clem Bastow wrote about it for Daily Life and praised ESPN»s Body Issue magazine where female (and male) athletes expose the body»s that make them elite and do so in context. The images show how the body looks when in sporting competition in a powerful way.
I don»t pretend to understand Russian culture and how far women have to go to be considered equal in a land where speaking up can land you in jail. But I do know that the four Russian IOC members are male, that seven of the nine member Russian Olympic Committee»s executive committee are male and six of the seven members of the ROC management team are male. All this in a land where women outnumber men.
I know that a survey by Russian recruitment website Superjob.ru revealed that a third of Russian women wish they had been born men and only five percent of women in Russia consider life as a female gratifying.
I can also assume from these recent images that have gone viral that Russian female athletes face a huge pressure to not just be brilliant at their craft but also be sexy and seductive in a totally contrived way.
With gold medals up for grabs and a record number of Australian athletes competing, including more women than men for the first time, who will bow to the pressure to strip off when the men's magazine dollars come calling? Golden girl Torah Bright has managed to keep her millions, keep her podium places, keep her voice in the media and keep inspiring both men and women who respect her talent, focus and perseverance all without straddling a snowboard while sporting a nipple tassel.
I challenge the men's magazines to have Torah as a guest editor and see how she portrays the power of female snow sports athletes. The gauntlet has been thrown.
Vocabulary
to bemuse — поражать
lodge — охотничий домик
to defy — бросать вызов, игнорировать
seductive — соблазнительный
contrived — неестественный
perseverance — упорство